Curriculum
Our curriculum is designed to ensure that all pupils have access to all that the National Curriculum offers and more. For details about the National Curriculum, please follow this link. The National Curriculum subjects have been organised into themes with consideration given to how learning within each subject is connected and sequenced (where curriculum content is not strengthened or supported by a thematic approach, it is taught in discrete lessons). Each year group has six themes that they use to map out their curriculum provision across the year. These themes are based on big ideas that connect subjects and link learning; developing understanding and allowing pupils to revisit knowledge in different contexts over time thereby deepening understanding. Using Cornerstones Maestro as a starting point, teachers and subject leaders are able to adapt and recreate curriculum projects to best meet the needs of our pupils and our changing world. Lessons within each subject are planned with purpose and rigour; providing a platform to recall and build on previous learning. Appropriate challenge develops the independence needed to make and learn from mistakes, building emotional and intellectual resilience.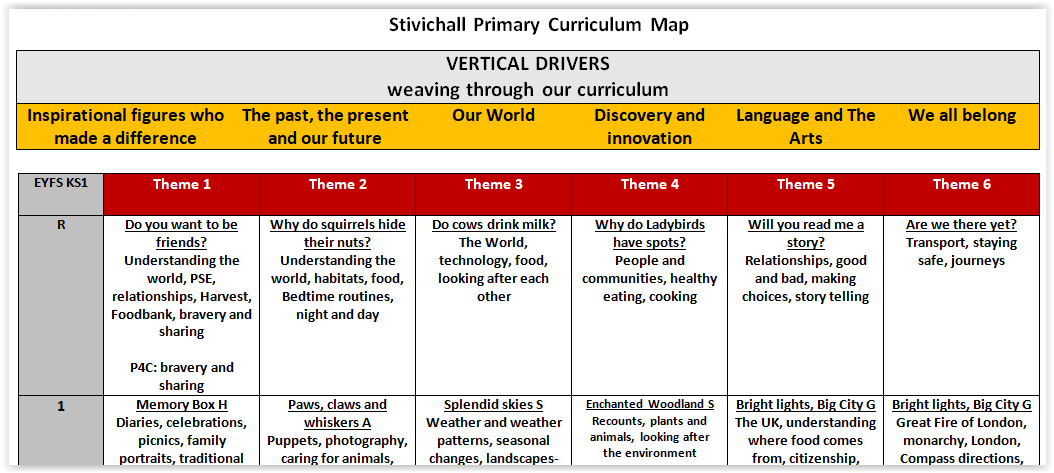 Each curriculum theme follows a sequence of Inspire-Immerse-Imitate- Innovate-Invent drawing on the best that has been thought and said, helping to develop a knowledge and appreciation of human creativity and achievement. Within each theme, pupils are able to build cultural capital and celebrate diversity by learning about an inspirational figure from the past or present who has made a positive impact on society and encompasses the Stivichall Values. This could be an architect, an artist, an engineer, a writer, a humanitarian or a scientist. Our termly overviews for each year group can be downloaded below.
For details about how our curriculum complies with the duties outlined in the Equalities Act 2010 please follow this link to our Character Curriculum and British Values areas of the website.
We are proud of the provision that is put in place throughout our curriculum to meet the needs of children with Special Education Needs and Disabilities and how we make learning accessible to them. For further details about SEND please follow this link.
The Stivichall Pledge

Our Wider Curriculum