Curriculum
Our curriculum is designed to ensure that all pupils have access to all that the national curriculum offers and more. The National Curriculum subjects have been organised into themes with consideration given to how learning within each subject is connected and sequenced (where curriculum content is not strengthened or supported by a thematic approach, it is taught in discrete lessons). Each year group has six themes that they use to map out their curriculum provision across the year. These themes are based on big ideas that connect subjects and link learning; developing understanding and allowing pupils to revisit knowledge in different contexts over time thereby deepening understanding. Using Cornerstones Maestro as a starting point, teachers and subject leaders are able to adapt and recreate curriculum projects to best meet the needs of our pupils and our changing world. Lessons within each subject are planned with purpose and rigour; providing a platform to recall and build on previous learning. Appropriate challenge develops the independence needed to make and learn from mistakes, building emotional and intellectual resilience.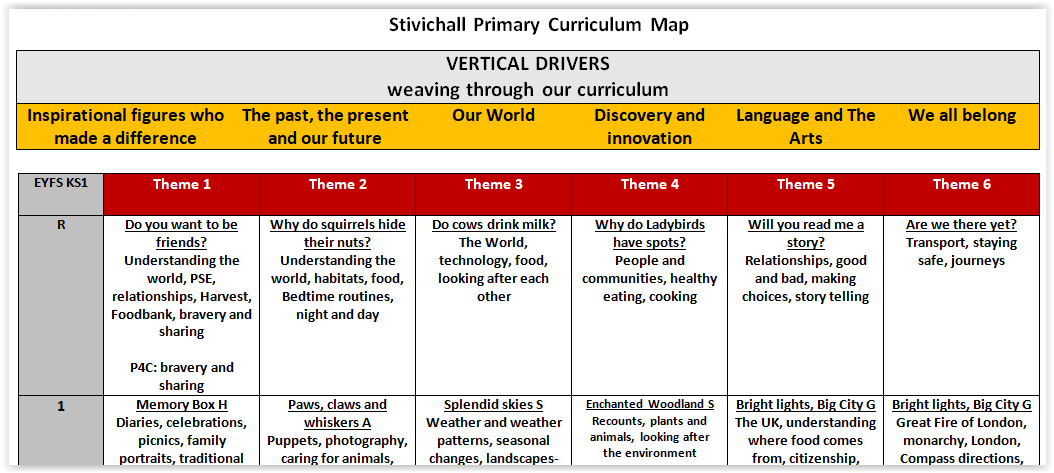 Each curriculum theme follows a sequence of Inspire-Immerse-Imitate- Innovate-Invent drawing on the best that has been thought and said, helping to develop a knowledge and appreciation of human creativity and achievement. Within each theme, pupils are able to build cultural capital and celebrate diversity by learning about an inspirational figure from the past or present who has made a positive impact on society and encompasses the Stivichall Values. This could be an architect, an artist, an engineer, a writer, a humanitarian or a scientist. Our termly overviews for each year group can be downloaded below.
Our Pledge
Many memorable experiences help bring learning to life at Stivichall. Pupils and staff have worked together to capture these in our Stivichall pledge of 100 things that our children have the opportunity to experience on their journey through school.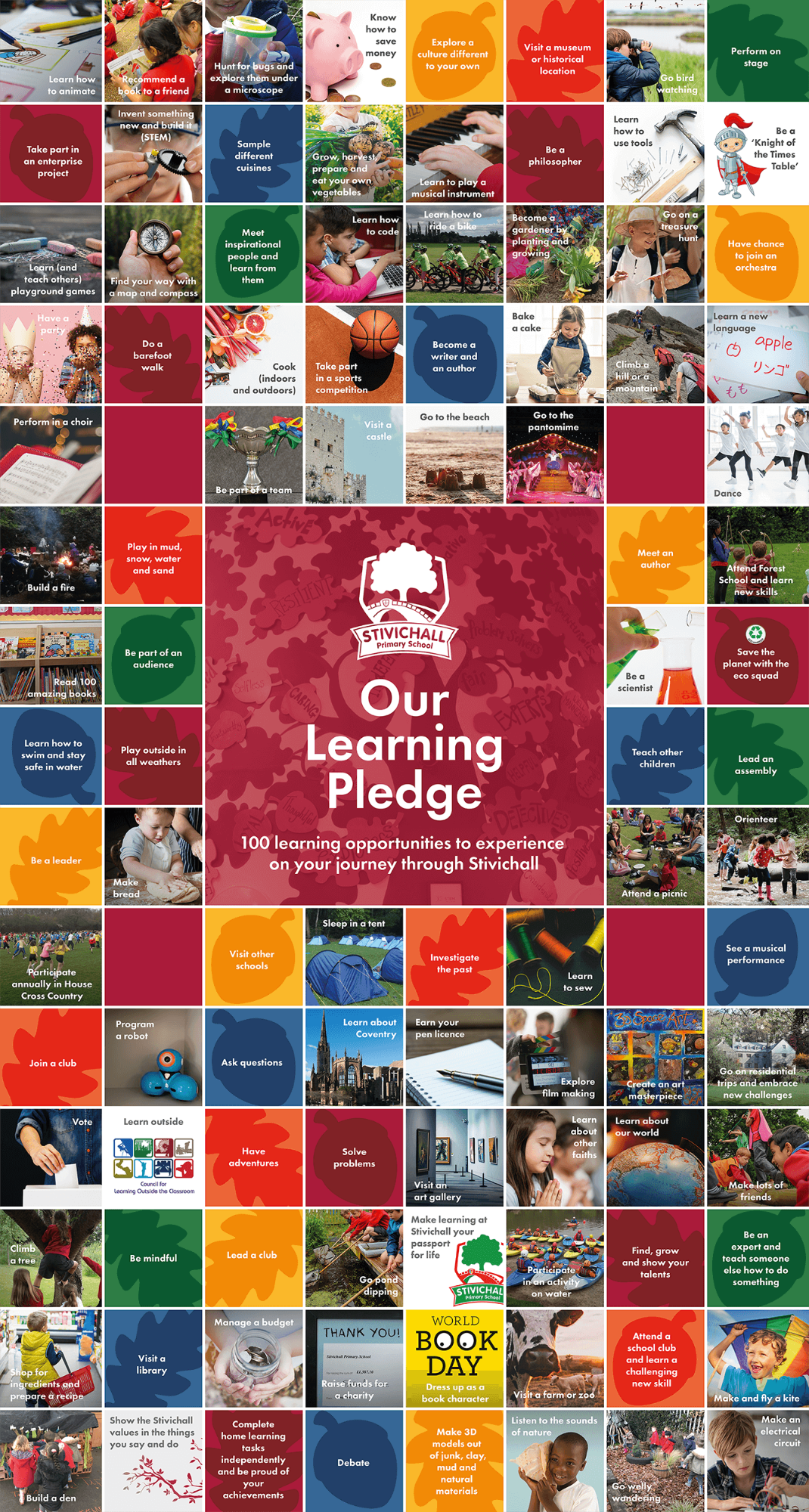 Our wider curriculum
Through Philosophy for Children (P4C) and within each curriculum subject, pupils are encouraged not to take information at face value, but to interrogate, consider, evaluate and question. Parents, as the primary educators of their children, are encouraged to engage in philosophical debate through our weekly sticky questions (click on the picture for a link to find out more).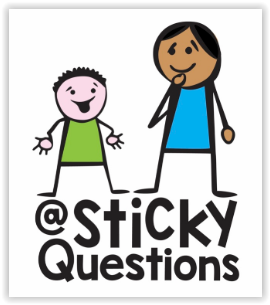 Our pledge of 100 experiences to enjoy at Stivichall offers all pupils the opportunity to challenge themselves and others; to grow and flourish; to build cultural capital that they can draw upon for their future learning; to create a passport for life.
A link to the Stivichall pledge will be here once graphics have been finalised.
As a Coventry school in such close proximity to the War Memorial Park, and as global citizens, we are proud to be a UNESCO associated school. This is in recognition of our work within The Cities of Peace Project. Peace and reconciliation thread through our curriculum and daily practice. Children are encouraged and supported in using restorative conversations to overcome conflicts and achieve positive resolutions.
Link https://www.betweenthestones.com/schools-project
Subject Specific Information