Please find below information we like to share with our community, this page will be updated often.
Family Learning from the Adult Education Services - updated January 2021
Coventry Adult Education Services have written to all Coventry Primary Schools to ask if the information below could be passed onto parents. They are offering three free Primary-aged online and recorded video short courses to help families support remote learning.
One course is English in the Primary School, one is Maths in the Primary School and one is Positive Family Foundations (a parenting skills course based on Thrive and Triple P.) Some of the courses are online live through MS Teams, but some are recorded and sent out via YouTube link so parents can watch whenever they can. The sessions start this week (Tues 12th January, Wed and Thurs), but people can join up to week 3 of each course.
Click on the pictures for more information about each course: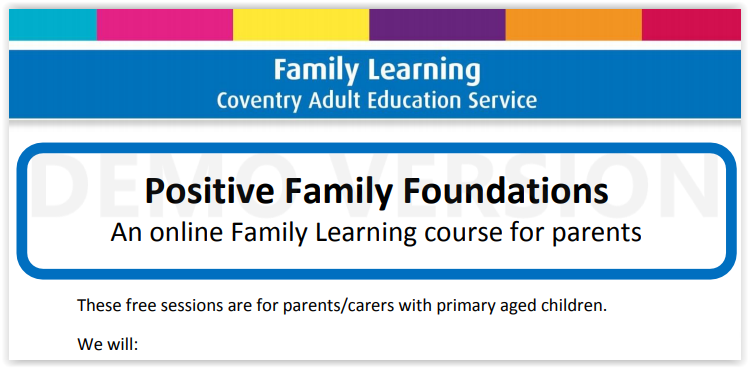 As children are now being home-schooled these courses would be really valuable to parents – assuming they can find the time to join! Please get in touch with the if you need any more information:
kate.steventon@coventry.gov.uk or 024 7697 8730
steve.withers@coventry.gov.uk or 024 7697 1301
Talking about trust online - tips for parents and carers of younger children
Video 1
Video 2
For more tips on how to stay safe online please visit our Online Safety page