Please find below information we like to share with our community, this page will be updated often.
Eco Warriors - COP26
Please click on the video below to see an important message from our Eco Warriors about the COP26 meeting!
New Parents Meeting - 28th June 2021
Please click on the video below to see the new parents meeting
Here to Help - 10th May
Please click on the image below to download the poster. The Coventry FamilyHub Partnership is here to help. Early Help is a range of services working together to help children, young people (0 – 19) and their families. They can provide this support through the Family Hubs and within the local community.
Please see the useful contact details on the poster if you need to get in touch.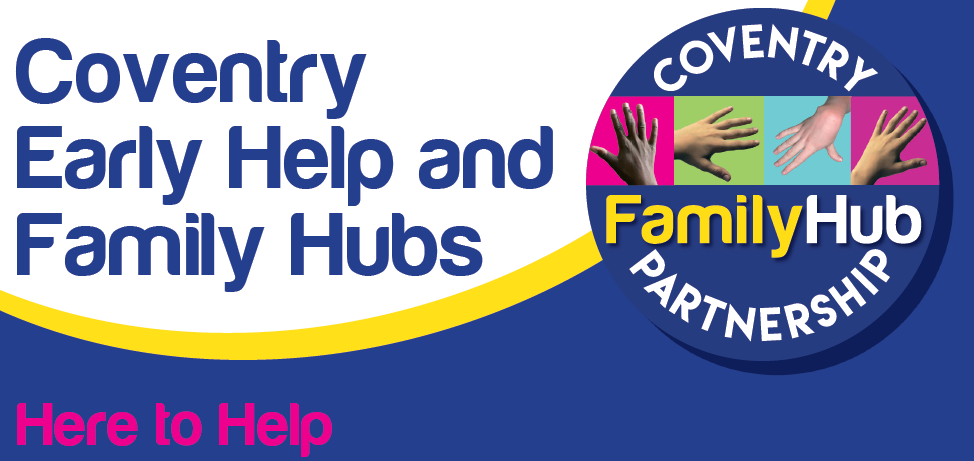 Window Wanderland for Coventry City of Cuture - Stivichall Area 13th - Fri 19th March
Last week we shared on our newsletter that streets across Coventry and Warwickshire are lighting up their front windows and gardens to become beautiful walking trails as part of the City of Culture 2021. Window Wanderland can be enjoyed by all ages and abilities, so everyone on your street can get involved.
It is our Stivichall area's turn from Sat 13th - Fri 19th March and it would be great to see everyone getting involved in making and displaying a window picture and enjoying walks to see them all with their family. For more information:
https://coventry2021.co.uk/get-involved/window-wanderland/
A big thank you to the children and families who took part in our pupil survey on Seesaw this last week to capture your preferences for the theme of Stivichall. 'Stivichall Values' came through as a winner. Children know so many of our school values - the acorns on our tree - I'm sure they will have some great ideas.
We have found the following short video clip that gives ideas for how to make a window display. We hope you enjoy taking part as a family in this community event.
Family Learning from the Adult Education Services - updated January 2021
Coventry Adult Education Services have written to all Coventry Primary Schools to ask if the information below could be passed onto parents. They are offering three free Primary-aged online and recorded video short courses to help families support remote learning.
One course is English in the Primary School, one is Maths in the Primary School and one is Positive Family Foundations (a parenting skills course based on Thrive and Triple P.) Some of the courses are online live through MS Teams, but some are recorded and sent out via YouTube link so parents can watch whenever they can. The sessions start this week (Tues 12th January, Wed and Thurs), but people can join up to week 3 of each course.
Click on the pictures for more information about each course: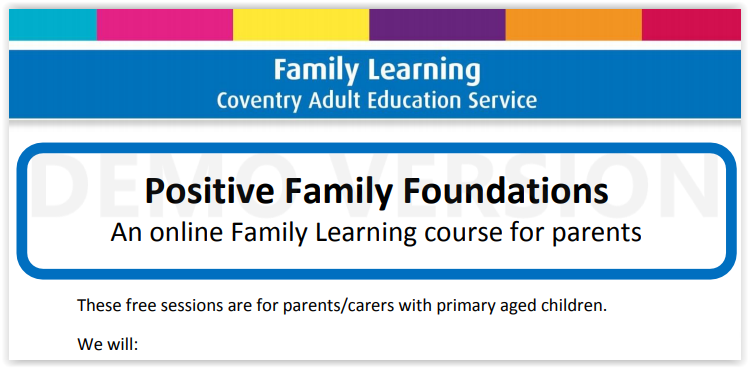 As children are now being home-schooled these courses would be really valuable to parents – assuming they can find the time to join! Please get in touch with the if you need any more information:
kate.steventon@coventry.gov.uk or 024 7697 8730
steve.withers@coventry.gov.uk or 024 7697 1301