There are lots of different ways to practise your English skills.
Below are a range of links to online resources and other ideas, activities and games to help children continue to practise and progress in their reading. As well as reading 'tasks/activities', it is vital that children are still in a routine of having a special time and place for reading for pleasure - e.g. before bed, or in their favourite comfy chair after lunch. Learning at Stivichall is a Passport for Life and if we can foster a love of learning in our children, it opens up a world of opportunities for them.
The following statistics show the impact of reading just 20 minutes per day by the time your child reaches Year 7 ('6th Grade' in the US poster below):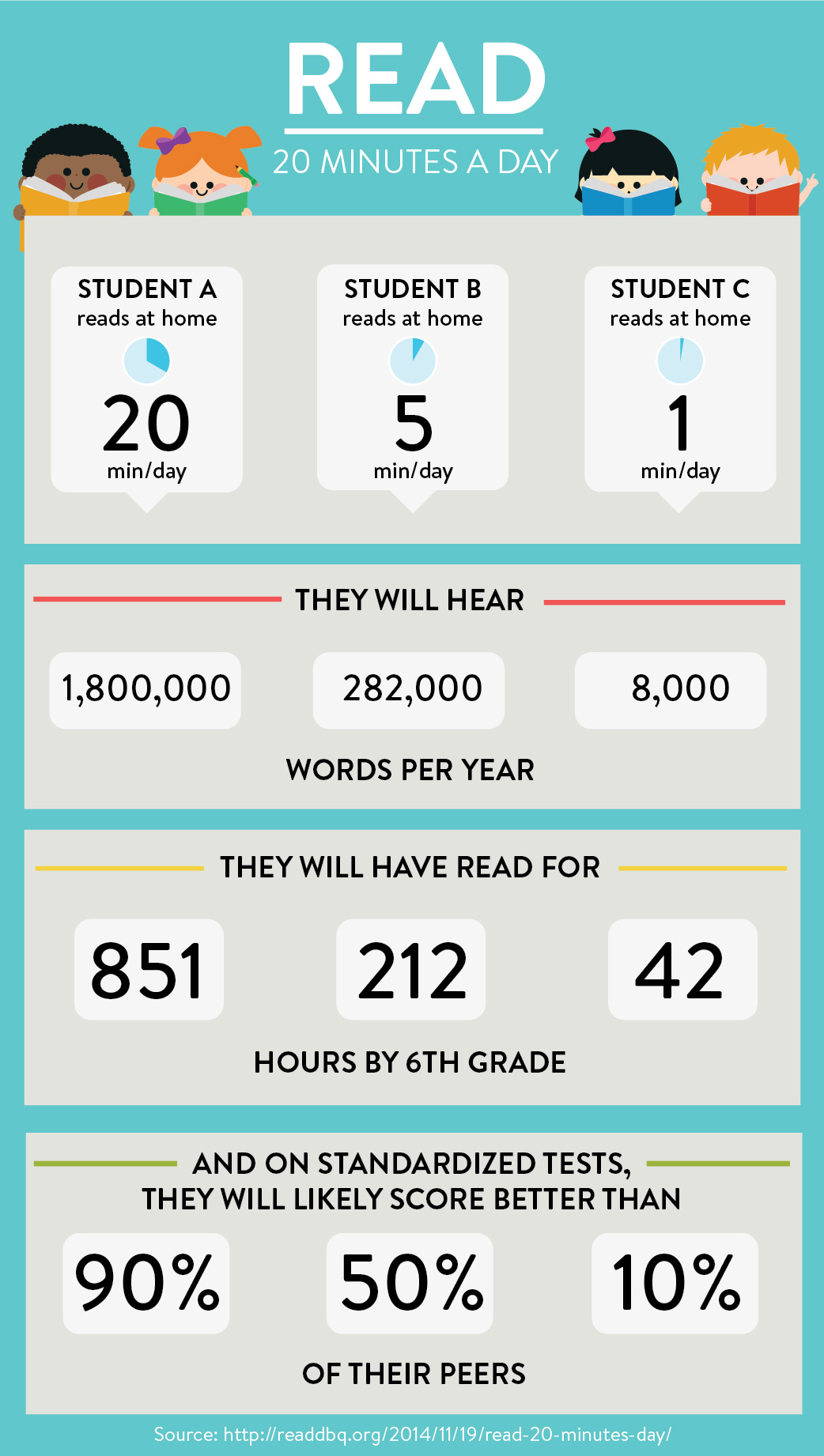 There are also ideas for writing, poetry and phonics below. We hope you enjoy!
Website or App name
Key Stage
Content

https://www.oxfordowl.co.uk/for-home/find-a-book/library-page

All
Range of Oxford Reading Tree e-books
KS1
Guided reading activities
KS1
A range of stories aimed at younger learners
https://www.phonicsplay.co.uk/
YR - Y2

Phonic games and activities

Username : march20

Password: home
https://www.lovereading4kids.co.uk/
All
Great for downloading extracts
All
An excellent range of poetry read aloud, arranged by themes and age groups. Transcripts also available.
https://www.topmarks.co.uk/Search.aspx?Subject=9
All
Range of English games and content for all year groups
https://www.onceuponapicture.co.uk/
All
Pictures to inspire creative writing – come with prompt questions for each image

Reading Apps:

First Words Deluxe
Toy Story Read Aloud
1000 Sight Words
Marvin
Blio
Me Books
Read with Biff, Chip and Kipper
Word Dynamo
Question Builder
Reading Prep Comprehension
Reading Comprehension Camp
Reading Comprehension Booster
Aesop's Quest

All

Range of reading apps with reviews,

star ratings and description of

content on App Stores.

Phonics Apps:

Pocket Phonics
Phonics Genius
Word Wizard
Mr Thorne Does Phonics
Phonics Lilies
Monster Phonics
Hearbuilder Phonological Awareness

Mostly

YR - Y2

Range of phonics apps with reviews,

star ratings and description of

content on App Stores.
Other reading ideas and activities:
read to an adult, brother or sister
read in the garden, on the sofa, in bed ... everywhere!
read magazines, websites, film/game reviews
listen to an audio book
Draw and describe a character from a book (using the clues in the text)
Predict what will happen next and why
Create a glossary of words you didn't know
Write an alternate ending to a story
Transform part of a story into a playscript
Draw a map of the setting from a story
Find your favourite 5 bits of description in a text
Use your reading to focus on vocabulary, magpie words and phrases that you would like to use in your writing