With the increased use of technology at home, it is more important than ever that children are following the e-safety and safety online messages that they have already learnt about at school. On this page, we will share Government guidance, and put links to activities that children can do sometimes independently and sometimes with the support of an adult at home. The aim of this to revisit and embed the e-safety knowledge and skills that they need to keep themselves and others safe online and to know where to report issues if necessary.
New (20th April) - for the latest guidance for parents and carers on children's social media use please click on the picture link below: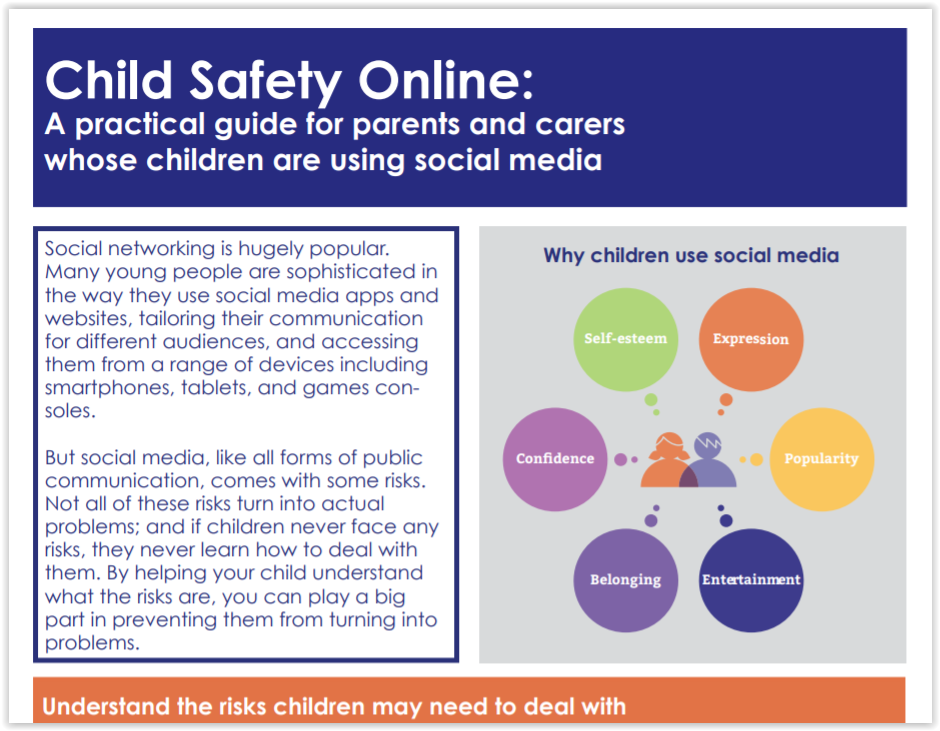 Government DfE (Department for Education) Guidance
As well as reporting back any concerns whilst online to the school (using the normal school email address) the DfE also recommend signposting children to age appropriate practical support from the likes of (links are on our e-safey page on this website):
In their online communications with children, school should reinforce the importance of children being safe online. It will be especially important for parents and carers to be aware of what their children are being asked to do online, including the sites they will asked to access and be clear who from the school or college (if anyone) their child is going to be interacting with online.
Parents and carers may choose to supplement the school or college online offer with support from online companies and in some cases individual tutors. In their communications with parents and carers, schools and colleges should emphasise the importance of securing online support from a reputable organisation/individual who can provide evidence that they are safe and can be trusted to have access to children. Support for parents and carers to keep their children safe online includes:
The department encourages schools and colleges to share this support with parents and carers.
10 Top Tips for parents
National Online Safety have produced a helpful poster of 10 top tips for Remote Learning for Parents and another for children. Clicking on the pictures below will take you to the full posters as documents: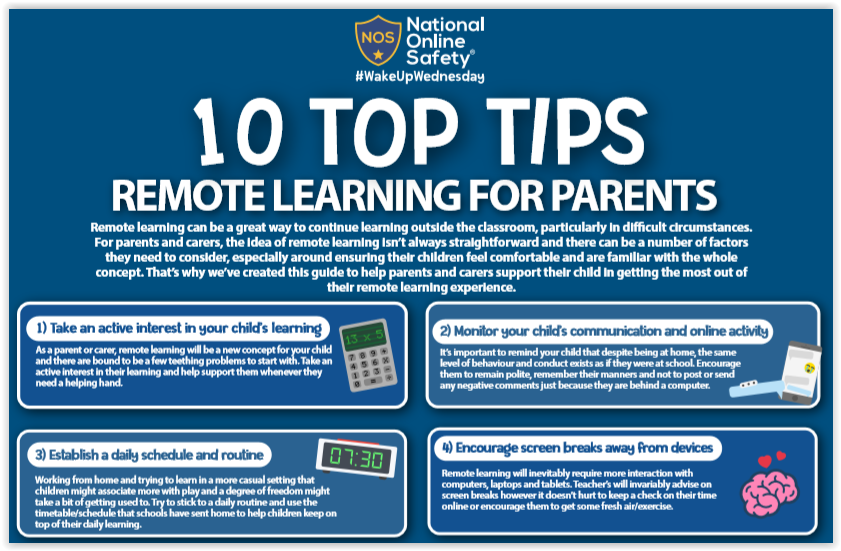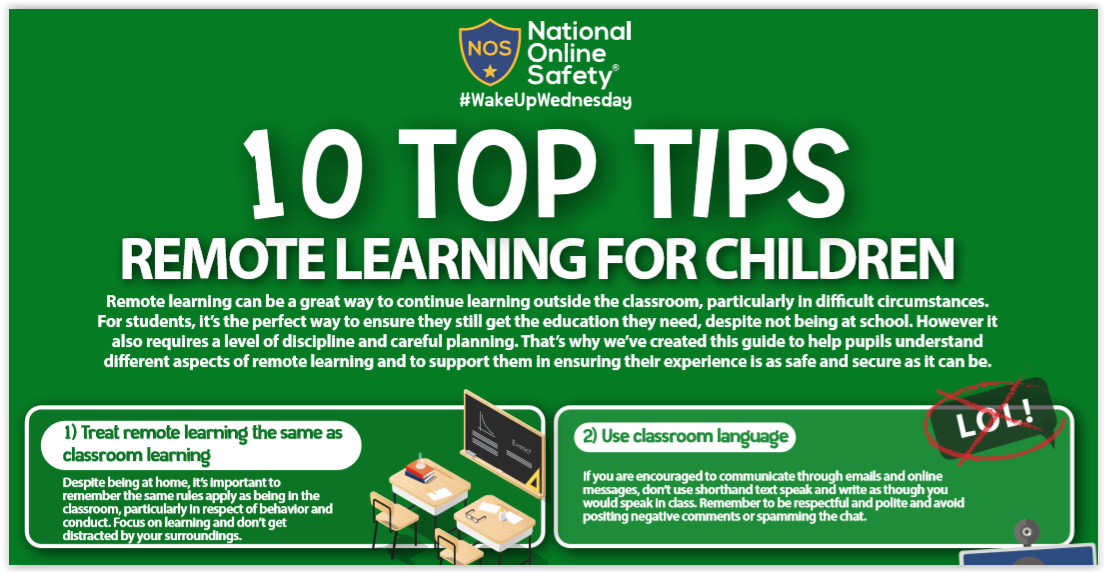 Think U Know
Over the next few weeks thinkuknow.co.uk will be sharing a series of age appropriate worksheets for parents to complete with children at home - https://www.thinkuknow.co.uk/parents/Support-tools/home-activity-worksheets/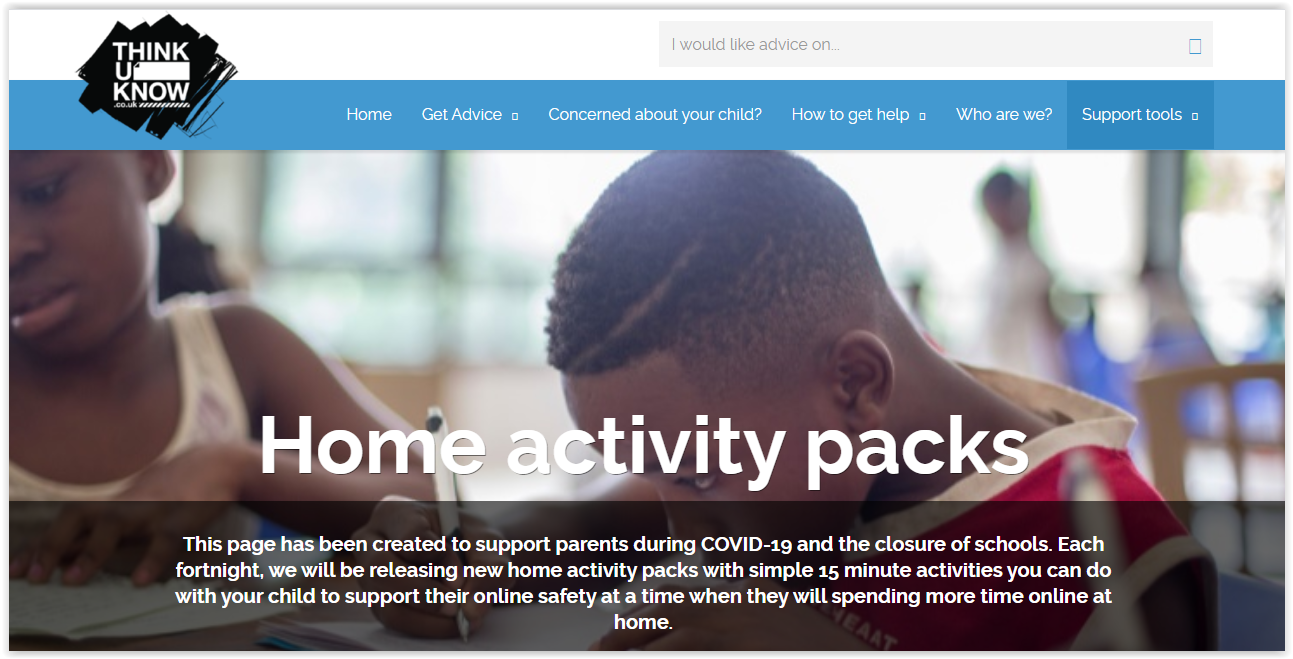 Further Activities for Children
There are web links in our e-safety page under the 'Our Learning' tab of the school website. Click on the picture below for a link to some great Childnet activities that support speaking to younger children about online safety.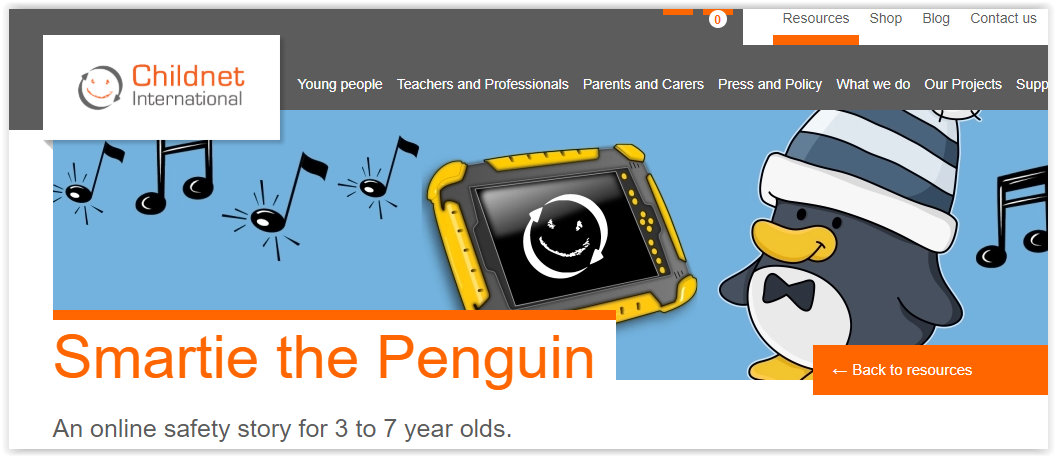 /_site/data/files/online-safety/B0A6364DCEE44B4B2561051EDAFF8BC5.pdf